Every year kids tend to cheer up their mothers by making a card. I get extremely excited and proud when they make me a gift or a card with their own hands. When they put some effort and time into the project. This year I have an assignment for dads. Here you will find all material needed to make a personalized Mother`s Day card.
Let`s not forget the grandmothers… They are also someone's mother, and they deserve some credit… Surprise your granny as well. Below in this post, you will find all the instructions on how to do it step by step. There will also be a video tutorial made by my daughter and myself.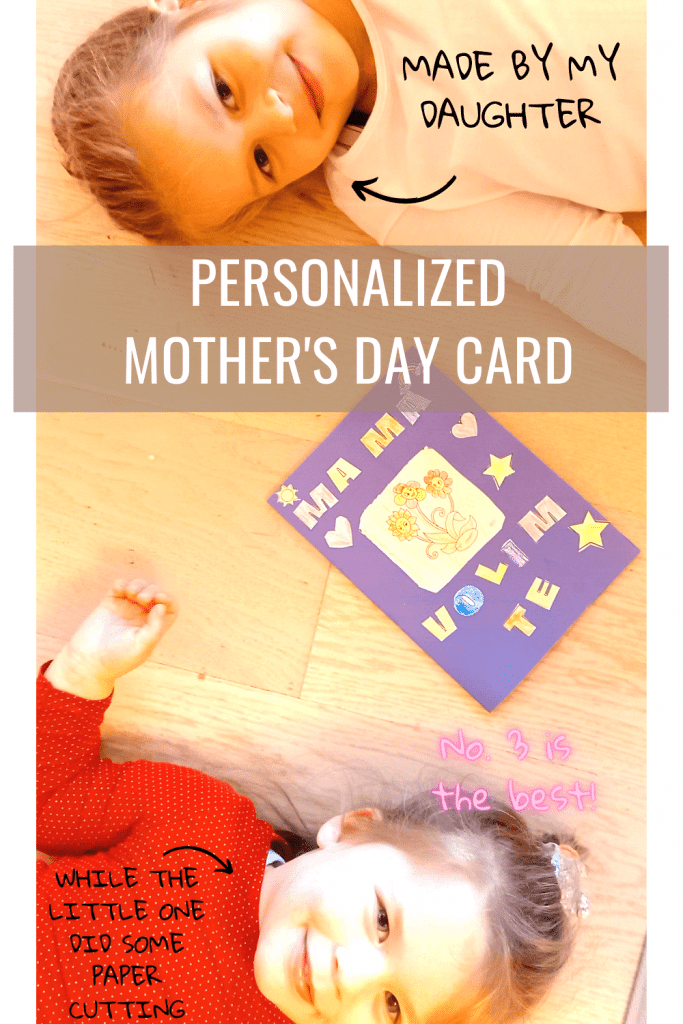 The first thing you need to do is print out these worksheets:
Material needed
worksheets
scissors
glue
crayons, acrylic paint, felt pens – as desired by the child
cardboard or paper in desired color
Step 1
After you prepared all the material, paint the letters and shapes in favorite colors
Step 2
Cut the letters and shapes
Dads can help if needed to the little ones
Step 3
Finish the sentences on a printed page and decorate as desired
Draw you and your mother or granny and sign your name at the bottom of the page
Step 4
Glue your personalized Mothers Day card on a cardboard or paper in some color
Step 5
Paint and cut pictures to decorate your card
Step 6
Glue all the material that you so lovingly prepared. Ours are written in Croatian for me
Personalized Mother`s Day card is all set
And voila`! Kids will feel proud and fulfilled for all the effort they have put in this work, and you will be glad to see that pleasure in their eyes. My daughter and I made this one for me so we can make all the documentation needed for this blog post. When we finished she hugged me and said:˝Thank you mommy for this, it turned out great!˝ Her happiness at that moment was my biggest thank you. Hope you will enjoy this project as much as we did and surprise the ladies in your family.
Here is the full tutorial on YouTube, and how we did it:
Happy Mother's Day to all lovely mothers… Hug and kiss your mums, and tell them that you love them. May Mother`s Day be every day!
I am looking forward on your feedback and do send me photos of yours. I would like to see how it turned out.
And remember…
WE ARE STRONGER THAN WE ALL THINK!
PS. Special thank you to www.supercoloring.com for allowing me to use some of their templates. You are the best!
Related: