As long as I can remember I was no artist and had no previous skills in wall art. Let's say I was average… but you don't wanna see how a human being looked like when I drew it… LOL
On the other hand, I am good at math and doing amazing designs using calculations… While I was pregnant with my firstborn I constantly had a desire to draw something on the wall of her room. Didn't wanna put stickers or wallpapers… I wanted my hands to do something for my princess on the way. They say new mums-to-be nest, well this was one of my nesting phases.
This blog is not gonna be about how to do something, it's not a tutorial, it's just an encouragement to all that you can do it on your own. And the feeling when the job is done…. Oh, priceless!
NESTING TIME
When I was 6 months pregnant my hormones peaked or whatever…. One weekend I was alone at home, while my partner went to a soccer game in Italy. So I gave myself some work. I took my old crib… it had around 35 years, and it was in really good shape. Buuuut, I didn't like the color brown, and it needed some refreshment. Or, as we are not really sane while pregnant, I just had to do something with it… haha …
So I took some fine-grade sandpaper and started…. After sanding I started painting with water-based paint that was non-toxic and safe for babies, and little by little the crib was white and beautiful… like new with a lot of soul in it! There was nowhere to buy such a crib, that is so beautiful, full of memories, love, and knowing I did it, made it irreplaceable.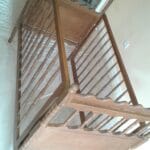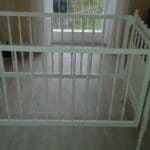 Next Project – Lets Do Some Wall Art
Time was passing by and I still had no idea what to do with the wall. I googled and googled DIY painting kids nursery ideas… and then it hit me! I don't really need to be Picasso to make the greatest wall ever! I need my hands, a ruler, crep protective tapes, and do some math.
Soooo… 3 weeks before I gave birth I gave myself a lot of work. Found what I liked…It was a photo of mountains and a sun… so I just measured between lines and did diagonal lines and drew the mountains. Then the other side…. And then vertical… As you can see in the pic, I got lots of triangles…
I am one of those when I start something, I just can't stop. Being pregnant, the work was not easy, my legs were killing me, and my belly felt like it`s gonna burst, lol… but I enjoyed watching how it becomes a masterpiece.
For the sun I just took 2 pencils and connected them with a thread. One pen in the center of the sun and with the other made a circle and draw a beautiful sun.
Then the fun part… painting.
My late grandfather whom I loved so much and miss every single day taught me a lot about paintwork and carpentry and how it's all done. The most important thing was to prep and cover carefully all the parts you don't wanna mess up. Crep tape and plastic are a must-have with this work. Move the furniture so nothing is in the way or cover it if it stays too close. So, those are the rules that I stick with… They are sacred to me. Once you are done with the painting you just take the tape and plastic off, and voila, everything is clean and finished.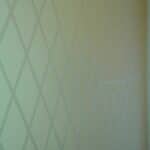 And see how it turned out… looks nice for someone who is no artist!
I was proud of myself… the crib and the wall.. did it all for my girl, with my two hands… ok, ok, dad gave a hand with painting and fulfilled every little demand I had. No wallpaper, no sticker, no money, or a famous decorator could induce the emotions this work did.
A COUPLE OF YEARS FAST FORWARD….
Now we have 2 girls. They are 5 and 2 years old. One day we decided to switch rooms and give them a bigger one… Let's face it, what are we gonna need for a bigger bedroom… just to sleep?? And they will be 2 girls spending a lot of time in their room… so Why not!
But….
The wall…
Now what…
Their wall needed to be painted… again…
On that wall, we had a wallpaper of sunset behind the palms that reminded my dearest of Miami.
But as you presume, the girls wanted something pink. My elder wanted Rapunzel… of course… she adores her for 3 long years. I have never heard of a toddler hanging on to one character for that long. It must be true love LOL.
We decided to go for a brick wall-like painting, in the pink of course. It seems impossible to do… But yet again: a crepe tape, some math, lathers, plastic, and a template… and work will be done.
As you can see, my template is all scribbled, thanks to my girls… But you get the hang of it and how I used it.
If you have uneven walls like we, take LEVEL and make the first line up the sealing. Make a template of your brick and mark with a pencil where 7 cm is every meter or so. I decided the bricks would be 7 cm, but you can play with it and make your own measurements. And then just make lines with the tape. For vertical lines, my template was marked on different measurements. Even my 5 yo girl did vertical lines with the tape… So…. So can you.
To make it more interesting I had it going a bit on the next wall. It really did a great finish touch. The hardest part is making the grid lines… I didn't sleep for three days from the pain in my hands and fingers. Oh, but isn't that the sweet pain when doing something valuable. We all painted, the girls, mum, and dad. The painting was over within 2 hours, but doing lines 3 days.
The best part for the big and the little ones is taking off the tape…
Check this video and my girl… She waited for this moment for days:
OH, what thrilling it was. To see what artwork is hidden while pealing it off… the kid's laughter and screaming of joy while doing it…It just makes the job even easier and worthwhile. There are a lot of versions… You can make some bricks in different colors… they can be all the same sizes, or different, like mine… it's all about how you want it.
This is our milestone, and how it turned out! Like it?!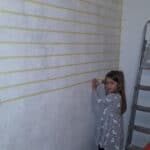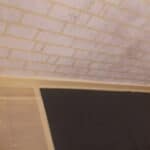 So now they have the big room… But still, they sleep in a small room with their mum as you can see in the pic below haha… It just fits us still. Even the crib is there, but no one ever slept in it. It just keeps the baby from falling down. Who wants to sleep in a crib while mums head is close by :-). As hard as it gets some nights, still, never ever would I change them.
WHEN BIRDS FLY AWAY FROM MUMS BED
We ordered bunk beds for girls the other day… I just cant wait to see how it will merge with this wall… It's gonna be magical. One day they will be bigger and sleep there together, so I hope it will be their paradise.
So, ladies… I hope I gave you some courage and a bit of wind in the back. As my Bella would say:˝Come on, it's gonna be a real adventure!˝. And trust me… it's such a good feeling when you are done.
You can do it all together… The kids can help… or make it harder (most likely 🙂 ), but it will be a memory they will always treasure and probably pass on to their children. Like I remember my grandfather with so much love whenever I do something like this… They will with their kids. Sometimes it's not all about how it looks, but how it feels. I feel my love for the baby in the belly every time I see the wall and the crib… I see little pink hands and hair, their smile… whenever I see those bricks. Nothing can replace that. Just look at those faces shining from happiness.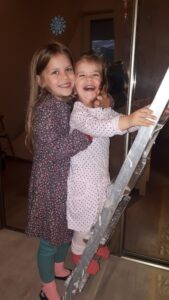 As Master Yoda would say: Do or do not, there is no try!
For any questions, I am here…
And do share with me if you try something like this.
Remember….
WE ARE STRONGER THAN WE ALL THINK!